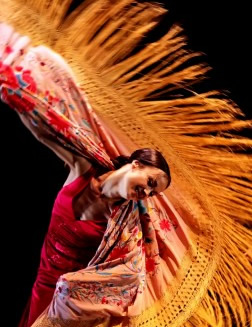 A weekend in Seville, with accommodation in selected three and four star hotels, to attend some of the best performances of the Seville Flamenco Bienal 2012.
María Pagés, Sara Baras, Pansequito, Pepa Montes, Ricardo Miño,...
Also, get to know something more about Seville and its monuments, with the visit which we include in your programme, and plan your visit to the Museum of Flamenco Dance.
Services included
Stay of 2 nights, in the selected Hotel, with a Double room, including Breakfast.
Attendance at the performances detailed on each date with Stall seats —or similar preferential area—.
A tour of the city (second day of your stay) with a local guide, bus and entrance to monuments.
Free visit to the Museum of Flamenco.
Dates of stays and Performances included
Pack 1
07/09 September 2012
07/09/2012

UTOPÍA
Compañía María Pagés
Maestranza Theatre - 20:30 hours

08/09/2012

ROSA METAL CENIZA
Compañía Olga Pericet
Lope de Vega Theatre - 20:30 hours
Pack 2
14/16 September 2012
14/09/2012

LA PEPA
Ballet Flamenco Sara Baras
Maestranza Theatre - 20:30 hours

15/09/2012

PERSPECTIVAS
Compañía Mercedes Ruiz
Lope de Vega Theatre - 20:30 hours
Pack 3
21/23 September 2012
21/09/2012

SORTILEGIO DE SANGRE
Fernando Romero
Lope de Vega Theatre - 20:30 hours

22/09/2012

UNA MIRADA HACIA DENTRO
Pepa Montes y Ricardo Miño
Lope de Vega Theatre - 20:30 hours
Pack 4
28/30 September 2012
28/09/2012

LA CELESTINA
Ballet Shoji Kojima Flamenco
Maestranza Theatre - 20:30 hours

29/09/2012

SUITE SEVILLA Y MEDEA
Ballet Nacional de España
Dirección: Antonio Najarro
FIBES Auditorium - 21:00 hours
More information on the performances at www.labienal.com
Precios
| | | |
| --- | --- | --- |
| | 3 * Hotel | 4 * Hotel |
| Price per person in double room | 235,00 € | 255,00 € |
| Price per person in single room | 315,00 € | 350,00 € |
| V. A. Tax included | | |
Reservar