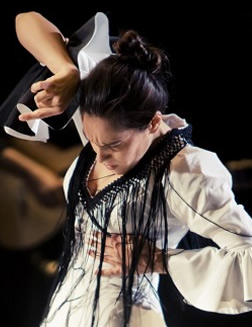 A two-day escapade in Seville, with accommodation in selected three and four star hotels, to attend some of the best performances of the Seville Flamenco Bienal 2012 at the emblematic Maestranza Theatre, located in front of the Guadalquivir River, the historic Lope de Vega Theatre and the new Auditorium of Fibes.
The selected performances at these fantastic venues we are here offering you are those of María Pagés, the Ballet Flamenco de Andalucía, Sara Baras, Carmen Linares, Antonio Canales, Marina Heredia, Pansequito and the Ballet Nacional de España.
This is just a basic package with hotel and show. And enjoy your stay in Seville by discovering the Bienal in essence.
Services included
Stay of 2 nights, in the selected Hotel, with a Double room, including Breakfast.
Attendance at the performances detailed on each date with Stall seats —or similar preferential area—.
Dates of stays and Performances included
Essence 1

04/06 September 2012
05/09/2012

BALLET FLAMENCO DE ANDALUCÍA
Dirección artística, Rubén Olmo
Maestranza Theatre - 20:30 hours
Essence 2

06/08 September 2012
07/09/2012

UTOPÍA
Compañía María Pagés
Maestranza Theatre - 20:30 hours
Essence 3

07/09 September 2012
08/09/2012

UTOPÍA
Compañía María Pagés
Maestranza Theatre - 20:30 hours
Essence 4

09/11 September 2012
10/09/2012

MARINA HEREDIA
Marina Heredia
Maestranza Theatre - 20:30 hours
Essence 5

11/13 September 2012
12/09/2012

CAMARÓN 20 AÑOS
Big Band Flamenca, Duquende, Montse Cortés, La Susi, Pepe de Lucía.
FIBES Auditorium - 22:00 hours
Essence 6

13/15 September 2012
14/09/2012

LA PEPA
Ballet Flamenco Sara Baras
Maestranza Theatre - 20:30 hours
Essence 7

14/16 September 2012
15/09/2012

LA PEPA
Ballet Flamenco Sara Baras
Maestranza Theatre - 20:30 hours
Essence 8

15/17 September 2012
16/09/2012

LA PEPA
Ballet Flamenco Sara Baras
Maestranza Theatre - 20:30 hours
Essence 9

18/20 September 2012
19/09/2012

ENTRE EL LABIO Y EL BESO
Segundo Falcón y Paco Jarana
Lope de Vega Theatre - 20:30 hours
Essence 10

21/23 September 2012
22/09/2012

UNA MIRADA HACIA DENTRO
Pepa Montes y Ricardo Miño
Lope de Vega Theatre - 20:30 hours
Essence 11

22/24 September 2012
23/09/2012

OASIS ABIERTO. MIGUEL HERNÁNDEZ FLAMENCO
Carmen Linares con Tomasito
Maestranza Theatre - 20:30 hours
Essence 12

23/25 September 2012
24/09/2012

ASI SOY YO
Aurora Vargas
Lope de Vega Theatre - 20:30 hours
Essence 13

24/26 September 2012
25/09/2012

LA CONSAGRACIÓN
Rafael Estévez y Nani Paños con Antonio Canales
Maestranza Theatre - 20:30 hours
Essence 14

25/27 September 2012
26/09/2012

ARRABALES
Javier Barón y Esperanza Fernández
Lope de Vega Theatre - 20:30 hours
Essence 15

27/29 September 2012
28/09/2012

LA CELESTINA
Ballet Shoji Kojima Flamenco
Maestranza Theatre - 20:30 hours
Essence 16

27/29 September 2012
28/09/2012

MIS BODAS DE ORO EN EL CANTE
Pansequito
Lope de Vega Theatre - 23:00 hours
Essence 17

28/30 September 2012
29/09/2012

SUITE SEVILLA Y MEDEA
Ballet Nacional de España
Dirección de Antonio Najarro
FIBES Auditorium - 21:00 hours
Essence 18

29 September / 01 octubre 2012
30/09/2012

GALA DE CLAUSURA
LA PUNTA Y LA RAIZ. UN PASEO POR EL BAILE DE SEVILLA
Rafaela Carrasco
Maestranza Theatre - 20:30 hours
More information on the performances at www.labienal.com
Precios
| | | |
| --- | --- | --- |
| | 3 * Hotel | 4 * Hotel |
| Price per person in double room | 155,00 € | 170,00 € |
| Price per person in single room | 245,00 € | 265,00 € |
| V. A. Tax included | | |
Reservar