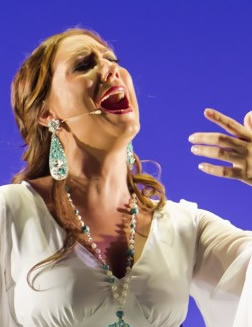 A three-day escapade in Seville, with accommodation in selected three and four star hotels, to attend some of the best performances of the Seville Flamenco Bienal 2012.
Nights to remember with Manuela Carrasco, Pansequito, María Pagés, Olga Pericet, Marina Heredia, Sara Baras, Arcángel, Carmen Linares, Antonio Canales, Javier Barón, Esperanza Fernández, Rafaela Carrasco,...
Also, get to know something more about Seville and its monuments, with the visits which we include in your programme, and plan your visit to the Museum of Flamenco Dance.
Services included
Stay of 2 nights, in the selected Hotel, with a Double room, including Breakfast.
Attendance at the performances detailed on each date with Stall seats —or similar preferential area-.
A tour of the city (second day of your stay) with a local guide, bus and entrance to monuments.
Free visit to the Museum of Flamenco.
Dates of stays and Performances included
Selection 1

03/05 September 2012
03/09/2012

RAICES DE ÉBANO
Manuela Carrasco, baile.
Al cante, Pansequito, El Pele, Juanito Villar, Enrique El Extremeño
Real Alcázar Palace - 22:00 hours

04/09/2012

LAS IDAS Y LAS VUELTAS
Academia del Piacere, Fahmi Alqhai y Arcángel
Real Alcázar Palace - 22:00 hours
Selection 2

05/07 September 2012
05/09/2012

BALLET FLAMENCO DE ANDALUCÍA
Dirección artística, Rubén Olmo
Maestranza Theatre - 20:30 hours

06/09/2012

LAS HUELLAS
La Farruca y Anuj Arjun
Real Alcázar Palace - 22:00 hours
Selection 3

07/09 September 2012
07/09/2012

UTOPÍA
Compañía María Pagés
Maestranza Theatre - 20:30 hours

08/09/2012

ROSA METAL CENIZA
Compañía Olga Pericet
Lope de Vega Theatre - 20:30 hours
Selection 4

10/12 September 2012
10/09/2012

MARINA HEREDIA
Marina Heredia
Maestranza Theatre - 20:30 hours

11/09/2012

TUÉTANO
Andrés Marín con Concha Vargas y La Macanita
Lope de Vega Theatre - 20:30 hours
Selection 5

12/14 September 2012
12/09/2012

CAMARÓN 20 AÑOS
Big Band Flamenca, Duquende, Montse Cortés, La Susi, Pepe de Lucía.
FIBES Auditorium - 22:00 hours

13/09/2012

DE FLAMENCAS
Marco Flores
Lope de Vega Theatre - 20:30 hours
Selection 6

14/16 September 2012
14/09/2012

LA PEPA
Ballet Flamenco Sara Baras
Maestranza Theatre - 20:30 hours

15/09/2012

PERSPECTIVAS
Compañía Mercedes Ruiz
Lope de Vega Theatre - 20:30 hours
Selection 7

19/21 September 2012
19/09/2012

ENTRE EL LABIO Y EL BESO
Segundo Falcón y Paco Jarana
Lope de Vega Theatre - 20:30 hours

20/09/2012

ALELUYA EROTICA, Federico García Lorca
Rosario Toledo, José Valencia y Dani de Morón
Central Theatre - 21:00 hours
Selection 8

23/25 September 2012
23/09/2012

OASIS ABIERTO. MIGUEL HERNÁNDEZ FLAMENCO
Carmen Linares con Tomasito
Maestranza Theatre - 20:30 hours

24/09/2012

ASÍ SOY YO
Aurora Vargas
Lope de Vega Theatre - 20:30 hours
Selection 9

25/27 September 2012
25/09/2012

LA CONSAGRACIÓN
Rafael Estévez y Nani Paños con Antonio Canales
Maestranza Theatre - 20:30 hours

26/09/2012

ARRABALES
Javier Barón y Esperanza Fernández
Lope de Vega Theatre - 20:30 hours
Selection 10

27/29 September 2012
27/09/2012

TRAVESÍA
Gerardo Núñez con Carmen Cortés
Lope de Vega Theatre - 20:30 hours

28/09/2012

MIS BODAS DE ORO EN EL CANTE
Pansequito
Lope de Vega Theatre - 23:00 hours
Selection 11

29 September/01 October 2012
29/09/2012

SUITE SEVILLA Y MEDEA
Ballet Nacional de España
Dirección: Antonio Najarro
FIBES Auditorium - 21:00 hours

30/09/2012

GALA DE CLAUSURA
LA PUNTA Y LA RAIZ. UN PASEO POR EL BAILE DE SEVILLA
Rafaela Carrasco
Maestranza Theatre - 20:30 hours
More information on the performances at www.labienal.com
Precios
| | | |
| --- | --- | --- |
| | 3 * Hotel | 4 * Hotel |
| Price per person in double room | 235,00 € | 255,00 € |
| Price per person in single room | 315,00 € | 350,00 € |
| V. A. Tax included | | |
Reservar